Clarity and visibility are essential for hazardous goods transports
Each dangerous good can be assigned a four-digit UN number, for example gasoline "UN 1203". This UN number must be indicated by the shipper on the transport document and usually also on the package. In addition, the UN number, together with the number identifying the hazard, must in certain cases also be inscribed on the vehicles or loading units on an orange-colored plate. This depends on the type of vehicle or loading unit.
Worldwide, dangerous goods are classified into the following dangerous goods classes and subclasses:
Class 1: Explosive substances and articles
Class 2: Gases and gaseous substances
Class 3: Flammable liquids
Class 4.1: Flammable solids, self-reactive substances, polymerizing substances and desensitized explosive solids
Class 4.2: Substances liable to spontaneous combustion
Class 4.3: Substances which, in contact with water, emit flammable gases.
Class 5.1: Flammable (oxidizing) substances
Class 5.2: Organic peroxides
Class 6.1: Toxic substances
Class 6.2: Infectious substances
Class 7: Radioactive substances
Class 8: Corrosive substances
Class 9: Miscellaneous dangerous substances and articles
Each class of dangerous goods is assigned a symbol, the so-called placard. On the package it is called a danger label. The number of the placard must also be indicated on the transport document.
Dangerous goods transports must be immediately recognizable as such – and this reliably from the start to the destination. Since January 1, 2019, ADR / RID contains the following information: The marking of dangerous goods loading units must be affixed in such a way that it remains permanently on the loading unit during the entire transport operation. And in intermodal transport, this means: including the main leg by rail and the pre-carriage and onward carriage by road.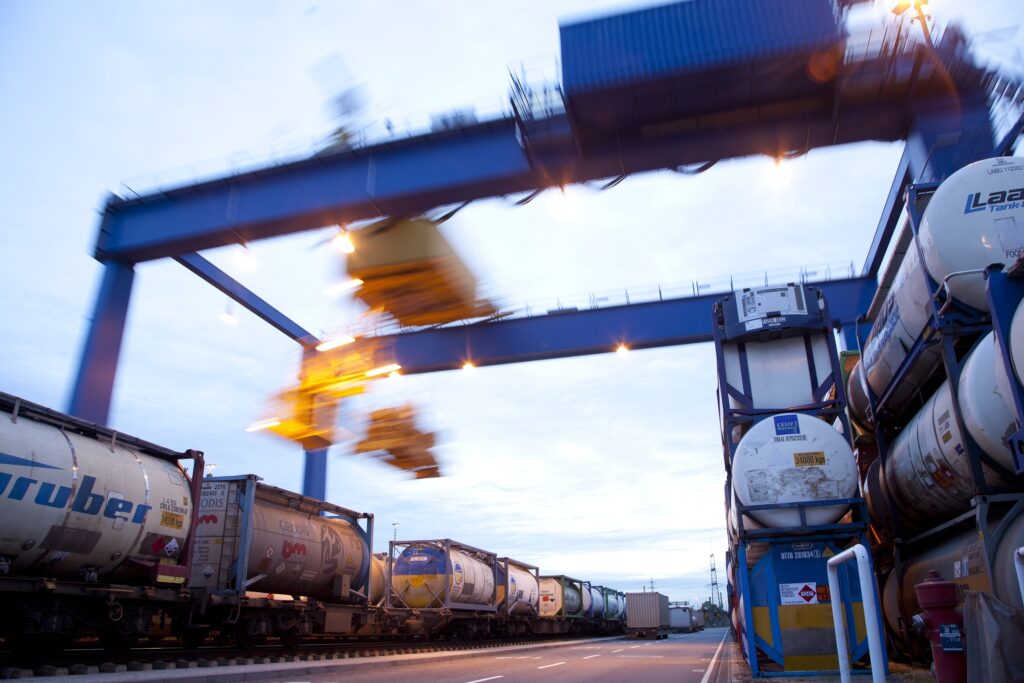 "The dangerous goods labels must therefore be absolutely durable even in heavy rain, storms or snow – and the responsibility for this lies with the loader or filler," says Kombiverkehr dangerous goods officer Ullrich Lück, "the railroad also sometimes travels at 100 to 120 km/h, and if a train is coming towards it in the tunnel, strong flow and counterflow forces act on the dangerous goods labels attached to the loading units. These must therefore be fastened properly. Sticking them on with a piece of adhesive tape is, of course, not permitted. In the case of hazardous goods transports, there must also be nothing illegible on the loading units or paper placards that have been soaked by the rain. Old markings of which remnants are still visible are also not considered to be in compliance with the regulations."
The Federal Railway Authority monitors these regulations at transhipment terminals and marshalling yards, while the police and the Federal Office for Logistics and Mobility (BALM), which replaced the Federal Office for Goods Transport (BAG) on January 1, 2023, also carry out checks on the pre- and onward carriage. Ullrich Lück: "Anyone caught with insufficient dangerous goods labels may have to pay a warning fine. In the event of a repeat offence, a fine may also be due, and then you are quickly in the three- and four-digit euro range. So here's a clear message from us: Mark your hazardous goods transports absolutely professionally! There are proven standards and products for placards and their attachment, for example wind- and weather-proof bags or exchangeable plug-in versions for tank containers. Just ask us, and the labeling will be just right."
---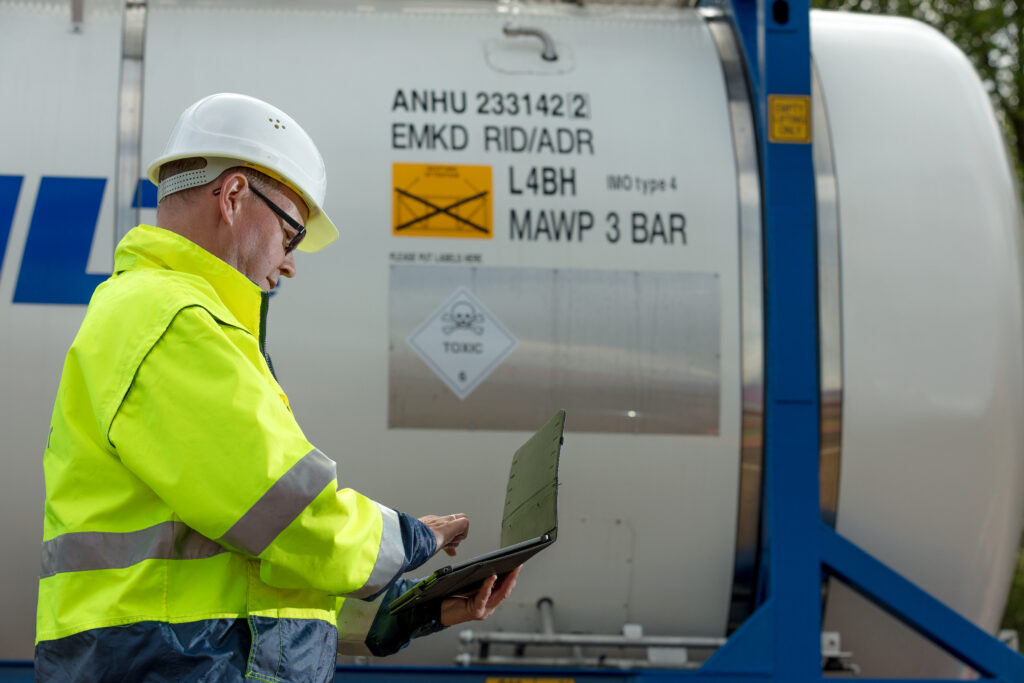 Ullrich Lück, Manager Hazardous Goods & Waste Transports, Safety Advisor
Ullrich Lück is your contact for all aspects of hazardous goods & waste transport in combined transport. He has been heading the Dangerous Goods Working Group at the International Union for Combined Road-Rail Transport UIRR in Brussels for many years. In addition, Ullrich Lück is also intensively involved in the dangerous goods working groups of UIC (Union Internationale des Chemins de fer) and OTIF (Organisation intergouvernementale pour les transports internationaux ferroviaire). With his experience and knowledge from his now more than 25 years as a dangerous goods specialist, he regularly trains employees at agencies at the terminals on site as well as employees in his own company.
You can find more information on our website or contact Ullrich Lück directly. He will advise you on legal regulations, on packaging and the route of hazardous goods transports and explain to you the special features of intermodal transport with the carriers truck, rail and ship.
Ullrich Lück, Manager Hazardous Goods & Waste Transports, Safety Advisor
Phone: +49 40/74 05 19 60
E-Mail: ulueck@kombiverkehr-gefahrgut.de
---
Which legal regulations apply and how is the transport of dangerous goods regulated worldwide? You can read all about this topic here.