Germany's No. 1 mineral water brand supplies Hamburg by Kombiverkehr
Every child knows Gerolsteiner mineral water. The water bottled in the innermost Volcanic Eifel is drunk throughout Germany. People have been enjoying the water with a star since 1888.
Anyone who has been producing a natural product for so many decades naturally attaches the greatest importance to treating nature with care. "For us, sustainability in practice is a top priority," says Ulrich Rust, Managing Director of Technology & Logistics at Gerolsteiner Brunnen GmbH & Co. KG, "which is why we are committed to the Paris 1.5 degree target and want to reduce CO2 emissions at the Gerolstein site by 59 percent by 2030. However, 90 percent of our emissions are generated in the upstream and downstream processes along our supply chain. Here, too, we have the ambition to significantly reduce emissions. That means we have to get to grips with packaging and, above all, with logistics processes."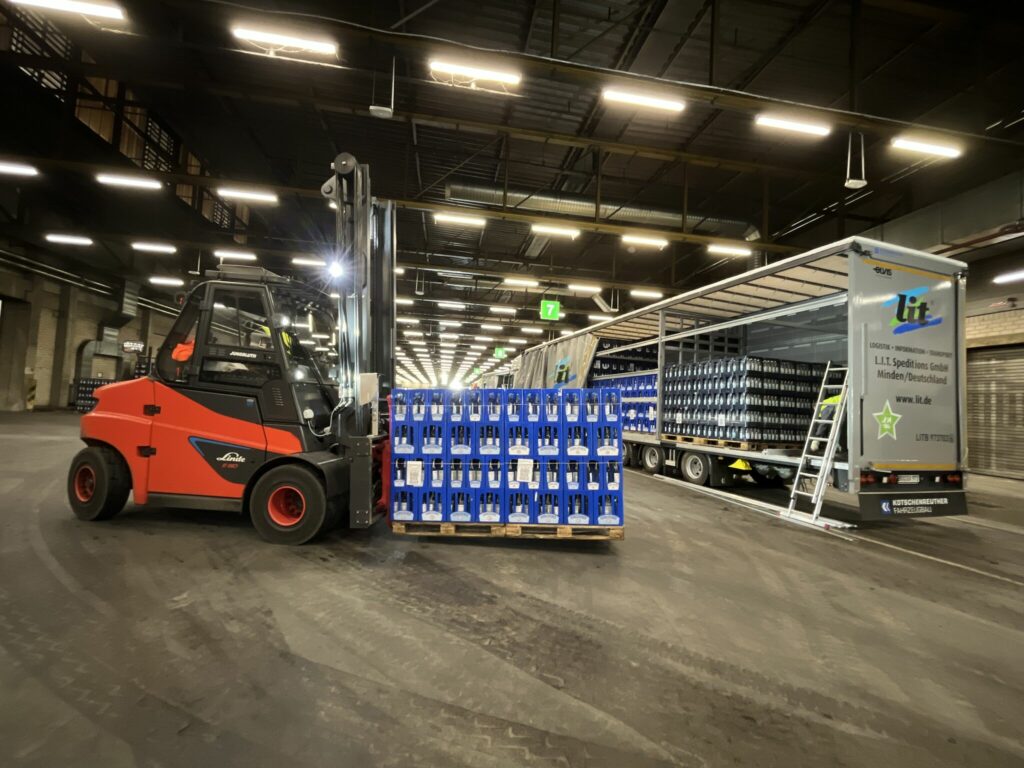 This is precisely where intermodal transport comes into play
Depending on the length of the route, rail freight transports emit 64 to 70 percent less CO2 than trucks. Since the early 2000s, the Gerolsteiner company has therefore been examining the routes on which rail could replace trucks in the medium term. Since 2019, the company has been using intermodal transport from Hamm-Bönen to Berlin – currently two loads per week. However, the lead time from Gerolstein to Hamm is 200 km, so the advantages of CT can only be partially used on this route so far.
Intermodal to the Greater Hamburg Area
This makes the highly innovative solution found by Gerolsteiner and its contract carrier for northern Germany, L.I.T. Speditions GmbH, for supplying the greater Hamburg area all the more significant: This is because a craneable low-bed trailer was jointly developed and produced by Kotschenreuther, on which Gerolsteiner mineral water has been transported intermodally from the Cologne-Eifeltor terminal to the Hamburg-Billwerder terminal since February 2023 – four round trips per working day with a total of eight trailers in use. "This means we can transport up to 1,000 loads a year by rail to our customers in the greater Hamburg area," says a delighted Ulrich Rust, "it costs us around 6 % more than pure road haulage, but it's worth it to us. After all, intermodal transport saves us 70 % of greenhouse gases. In addition, due to the higher load weights in intermodal transport, fewer trucks make the journey."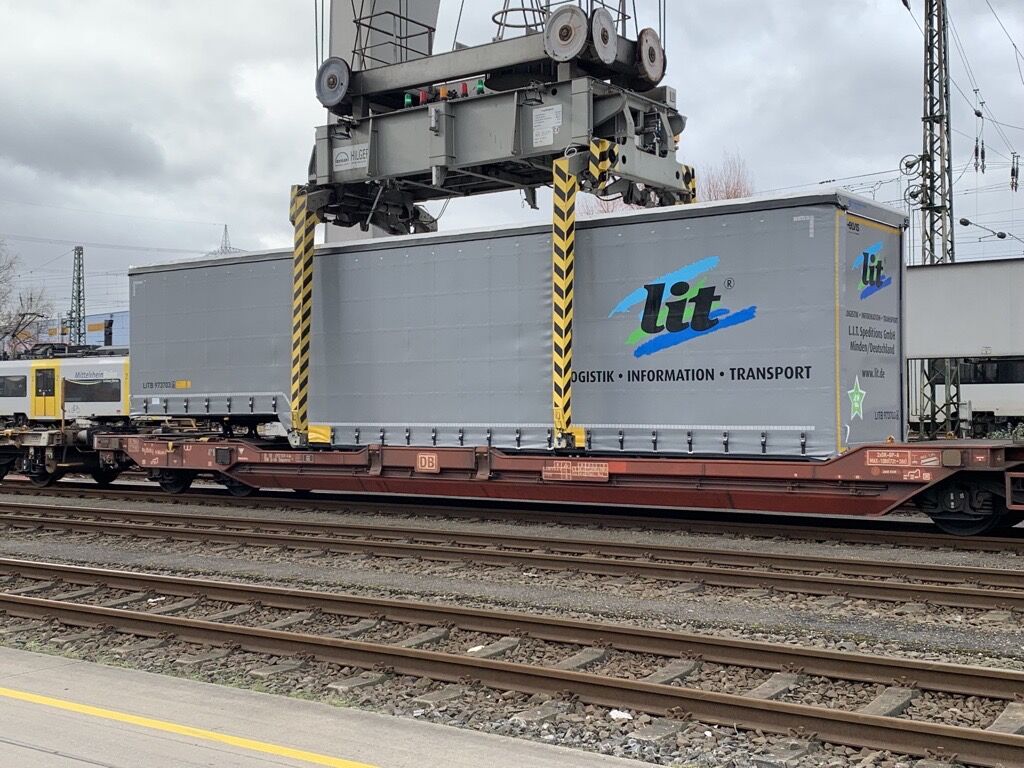 We at Kombiverkehr successfully realised the test loading with a trailer ready for series production in Cologne-Eifeltor, with gantry crane and fitted pocket wagon. Afterwards, the craneable low-bed trailer developed especially for Gerolsteiner was certified."

Frank Werner, Manager National Transport at Kombiverkehr.
L.I.T. then had eight of them produced: "The craneable low-bed trailer is suitable for both rail and road transport," says Kai Wullbrandt, Managing Director of L.I.T. Speditions GmbH from Brake an der Unterweser, "on two trailers a day we take the Gerolsteiner returnable bottles to Hamburg, and on two trailers a day we take the returnable empty bottles back to Cologne-Eifeltor. The completely new gooseneck trailer offers more space downwards and can now hold 40 euro pallets instead of just 34 compared to conventional trailers. In the summer, we'll double the number of hits for Gerolsteiner – then, when the big thirst comes."
"Same delivery rhythms, same number of containers"
"The intermodal transport for Gerolsteiner is the only one with these special trailers," says Kai Wullbrandt, "Gerolsteiner had set the goal: The end customers should not even notice the change of transport mode in the main run, which means the same number of containers and the same delivery rhythms. Craneable beverage trailers had never existed before; together with Kotschenreuther, we developed this special trailer – loading dimensions and load securing were the top challenges here."
And Kai Wullbrandt adds: "Rail transport for Gerolsteiner offers great flexibility thanks to the Kombiverkehr night jump. For example, beverage wholesalers often call in the evening to order for the next day. We can usually promise delivery the day after next, provided of course that the basic volume is available.
Vision: double-track expansion of the Eifel rail line
"Our vision is to realize a loading of our mineral water in the Eifel," says Ulrich Rust, "for this, the Eifel line between Trier and Cologne would have to be at least partially double-tracked." The line was partially destroyed by the severe flooding in July 2021 and is currently undergoing reconstruction with subsequent electrification. "We are of course in discussion with the state government in Mainz, this topic is of a perspective nature. For us, in terms of intermodality, we are on a long journey, the combined transport relation between Cologne-Eifeltor and Hamburg-Billwerder is a first, very important step."
In short, when professionals – such as Gerolsteiner, L.I.T., Kombiverkehr and Kotschenreuther – join forces, viable solutions emerge. To be continued.
---
Interested in our climate-friendly transport solutions? Please contact: Frank Werner, Manager National Transport, phone +49 69/79505-212 or fwerner@kombiverkehr.de
What are the reasons for intermodal transport?
Find out here.