Logisticians learn this on the first day of their professional life: "Plan A is great, but always have a plan B ready." And if you ask experienced logistics professionals, you'll get a smile on the subject and hear the phrase right after: "Logistics professionals always have a Plan C up their sleeve."
Thinking in options and adding options when needed …
… that's what robust logistics must be able to do, especially on long-haul routes. That's exactly what the Turkish-German logistics group COBANTUR BOLTAS, already in its second generation, is doing for its customers in chemical, automotive and consumer goods transports between Germany and Turkey: it is expanding its options from the end of January 2022 to include a Company Intermodal train managed by Kombiverkehr from Halkali in Turkey to Munich and back. In each case, the train will cover a distance of around 2,000 km, cross six national borders and save more than 70 percent CO2 compared to through road freight transport.
Our new Company Train is a very important addition and a clear pro-rail signal.

Iskender Cobanoglu, Managing Director of the COBANTUR BOLTAS Group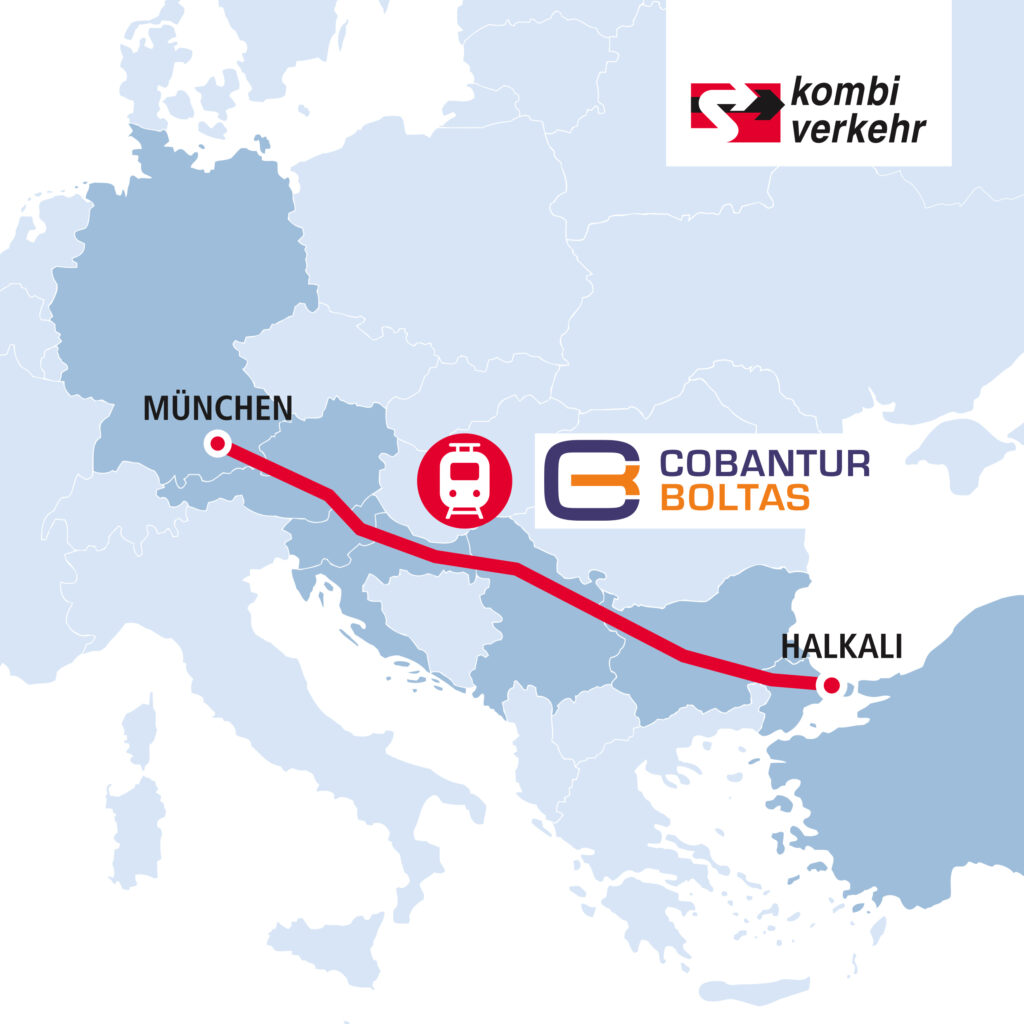 "We have been combining the train connection across the Alps with the ferry in Trieste on the Turkey-Bavaria route and back for years – and will continue to do so," says Iskender Cobanoglu, Managing Director of the COBANTUR BOLTAS Group. "Our new Company Train is a very important addition and a clear sign pro rail. With it, we are driving intermodally throughout for our customers, decoupling ourselves a good deal from the shortage of truck drivers and are even more climate-friendly on the road: the loading unit no longer has to be reloaded in the process, the train runs through without interfaces. So we now simply offer our customers this additional option. That makes us and our customers even stronger."
Anyone who thinks in terms of options as consistently as COBANTUR BOLTAS has been using Kombiverkehr's route network for years. For the first time, the two companies are now also working together via a Company Train.
"In order to make this sophisticated Company Train possible for COBANTUR BOLTAS, we conducted intensive negotiations with tractionaries, terminals and authorities and ultimately met the customer's requirements," says Marijo Pesic, Sales Manager Eastern and Southeastern European Transport at Kombiverkehr. As part of the Company Train package, Kombiverkehr also offers its customer COBANTUR BOLTAS services such as the rental of wagons and replacement wagons, terminal services, round-the-clock train monitoring and order management.
An efficient complete package, in other words!

Marijo Pesic, Sales Manager Eastern and Southeastern European Transport
The first intermodal train on the route from Munich via Austria, Slovenia, Croatia, Serbia and Bulgaria to Halkali in European Turkey started its journey on January 21, 2022. Traction on the through route will be provided by DB Cargo AG on behalf of Kombiverkehr. The train will initially run once a week in both directions. The second round trip is already in preparation.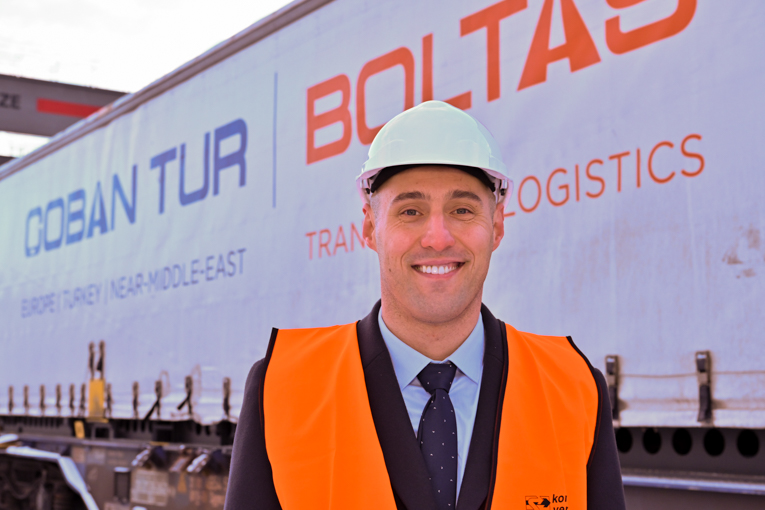 Iskender Cobanoglu, born on January 20, 1985, lives with his family in a small town in central Franconia. Even in his childhood, he liked to accompany his parents to the company and shared the workplace with his father, Naci Cobanoglu, who ran the business. It was soon clear that Iskender Cobanoglu would join the family business. He decided to study business administration at the DAV in Bremen after completing his training as a businessman for forwarding and logistics services. When he returned to his parents' business in Franconia in 2011, he became enthusiastic about the idea of implementing intermodal transport solutions in the portfolio. Thus, almost ten years ago, he laid the foundation for this development within Cobantur Boltas.
Very individual – the Company Train
A company train can be a solution for logistics companies that regularly have high shipping volumes on certain routes. In this case, the company has all the slots on a train, determines the frequency and departure times itself and assumes the utilization risk.
One destination, two routes –
the Turkey connections in the open train system that can be booked by any freight forwarder.
If the destination is Turkey, Kombiverkehr's customers simply choose which of two transport routes is better for them. Depending on the destination in Turkey, the transit time or, for example, the transport of special hazardous goods, the overland route, which is handled 100 percent by rail, may be the solution. Or the maritime offer via the port in Trieste with rail-based pre-carriage and onward carriage from Munich-Riem or Cologne-Eifeltor. This is because ferries also depart from Trieste to the Asian side of Turkey – namely to Pendik, Cesme or Mersin. Kombiverkehr thus has the right offer for every logistics company.
Your contact for more information on transports to and from Turkey: Marijo Pesic, Sales Manager Eastern and South-Eastern Europe, phone +49 69/79505-267 or mpesic@kombiverkehr.de.