With a new fourth round trip per week and direction on the connection between Ludwigshafen and Barcelona Morrot, Kombiverkehr further expanded its range of services on the Mediterranean route in Spanish traffic at the beginning of September. In addition to tank containers, the additional capacity will primarily benefit trailers.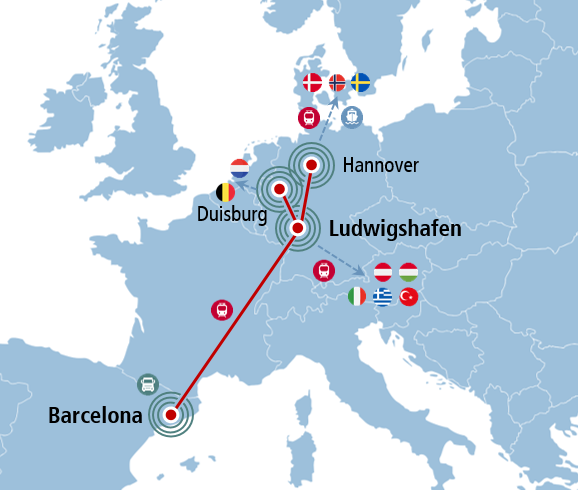 30 per cent more parking space capacity
The trend towards more trailers by rail continues unabated. Kombiverkehr expects a further increase in the number of semi-trailers to be transported by rail in a climate-friendly way. Reason enough to adjust the offer in good time, not only with new train departures. Because T3000 megatrailer double pocket wagons for semi-trailers with an internal clearance of three metres are also increasingly being used. This increases the capacity for transporting trailers by rail by more than 30 percent!
Increase to four rounds
The additional fourth train departure is offered to Barcelona Morrot always on Tuesdays from the combined transport terminal in Ludwigshafen. In the opposite direction from Barcelona Morrot to Ludwigshafen, another train now runs on Thursdays from Spain to Germany. Trailers, containers and swap bodies are accepted at both shipping terminals until 8 pm.
Save CO2 with every transport
On the 1200-kilometre route between Barcelona and Ludwigshafen, a cargo weight of 25 tonnes saves almost two tonnes of CO2 compared to continuous road transport. This means that freight forwarders and the loading industry save more than 80 percent of air pollutants.
In gateway traffic as far north as Scandinavia
Thanks to the numerous gateway options in our international network, customers can reach destinations in the Netherlands, Scandinavia and the Baltic States in a one-stop-shop process with just one booking. Ludwigshafen's connection to the Duisburg Ruhrort Hafen hub, to the innovative fast transshipment facility in Hannover Lehrte and to Moerdijk in the Netherlands offers a wide range of fast onward connections. And with the help of our shipping partners, even destinations in Sweden, Finland and Lithuania can be reached continuously by rail and ferry from Spain.
Your contact for more information on transports to and from Western Europe:
Ernst Kemmerer, Sales, Head of Western European Transport, Phone +49 69/79505-232 or ekemmerer@kombiverkehr.de