A new Kombiverkehr connection – and HEINLOTH is on board:
From 13 January 2022, the freight forwarder from Roth will be using the Kombiverkehr train from the Tricon terminal in Nuremberg to Rotterdam Cobelfret for semi-trailers to the UK.
What actually has to happen for someone like HEINLOTH to discover rail for itself?
How does an experienced and quality-conscious forwarder with a clearly expressed preference for road transport come to make its fleet craneable?
What moves a cool calculator to hire new dispatchers for the management of its intermodal UK transports from mid-January 2022?
The answer is simple: HEINLOTH is proactively dealing with Brexit and the shortage of resources in terms of loading space and truck drivers, securing a second option for UK transports by rail and saddling up to the Kombiverkehr intermodal train Nuremberg-Rotterdam. Kombiverkehr is thus expanding its existing destinations Rotterdam RSC and Rotterdam CTT to include the Cobelfret terminal operated by C.Ro.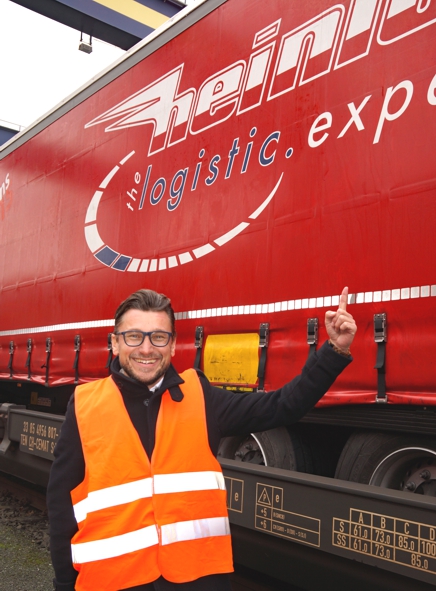 "When it comes to road or rail, my answer is simple: road AND rail"

Authorised signatory of HEINLOTH Transport & Co. KG
"We act with foresight"
HEINLOTH's fleet is around 500 trucks strong – around 120 of them its own and around 380 from subcontractors. "When it comes to road or rail, my answer is simple: road AND rail," says Florian Bast, authorised signatory of HEINLOTH Transport & Co. KG in Roth near Nuremberg, "we started converting our fleet to craneable semi-trailers at an early stage. We act with great foresight."
Florian Bast is pragmatic: "With all the limiting resources, the running time becomes almost irrelevant at some point, especially since we can also pre-buffer loads. I'd rather have a train for the main run to Rotterdam, through which we can reach our UK destinations in around 48 hours, than a truck that only needs 24 hours but can't run because of a lack of resources."
The first departure to Rotterdam from the TriCon container terminal at bayernhafen Nuremberg will be on 13 January 2022, with the first return journey from Rotterdam Cobelfret to Nuremberg on Friday 14 January 2022. The train, a production cooperation in partnership with TFG Transfracht, will run five times a week, i.e. Monday to Friday in both directions. For the first time, the Rotterdam Cobelfret terminal is connected in the international Kombiverkehr network, so it continues directly to the UK by ferry. In the UK, CLdN Cobelfret SA calls at the destination ports of London, Dublin and Killingholme.
"With this train we address industrial customers who in turn want to reach their customers in the UK reliably," says Florian Bast, "there are many different sectors involved, from industrial customers to customers in the chemical industry. So we take advantage of the best conditions that we can use the train permanently for our craneable trailers." Heinloth books the train via Kombiverkehr to the port terminal in Rotterdam – and the ferry to the UK under its own responsibility.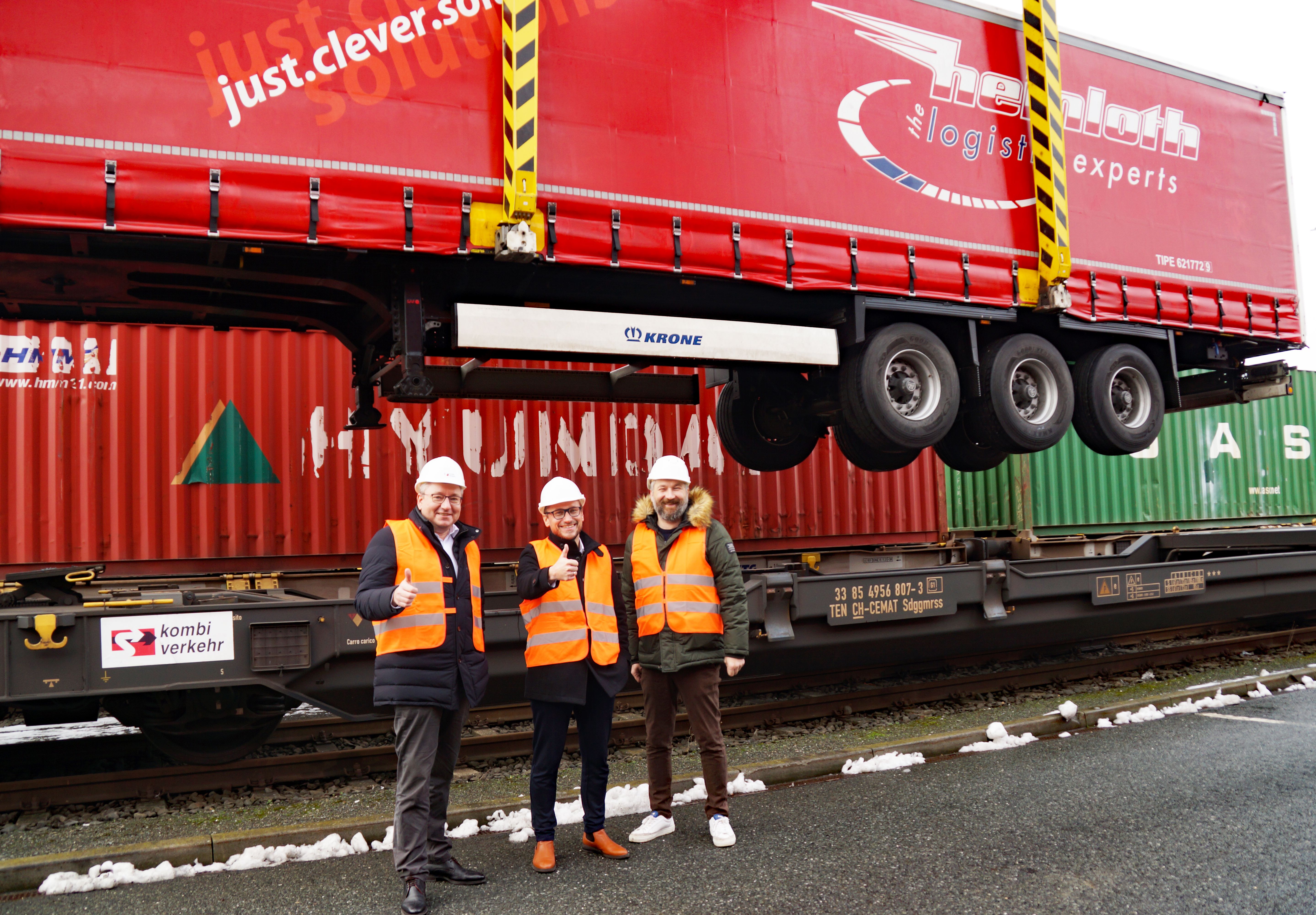 Heinloth is investing in up to three new employees for the internal organisation of the new multimodal connection with the modes of transport truck, rail and ferry. "The human resource is the decisive one for managing multi-leg relations," says Florian Bast with a smile, "then a complex succession becomes a robust relation. Kombiverkehr supports us here with its CT coaching – practical training that prepares our people for the specific requirements of combined transport."
Spedition HEINLOTH has already gained CT experience with Kombiverkehr trains on the Nuremberg-Verona route since the beginning of 2021. Florian Bast is convinced: "Reliably and economically running intermodal trains are a very decisive option in logistics."
Your contact for more information on continental traffic to and from Rotterdam:
Ernst Kemmerer, Sales, Head of Western European Transport
Phone +49 69/79505-232 or ekemmerer@kombiverkehr.de