e.g.o.o. Eisenbahngesellschaft Ostfriesland-Oldenburg relies on hybrid locomotive
"Christian Stavermann, Managing Director of e.g.o.o. Eisenbahngesellschaft Ostfriesland-Oldenburg mbH, is enthusiastic about his company's new hybrid locomotive, "because it saves us interfaces. No more additional shunting effort by classic diesel locomotive, so we gain time and save costs – on non-electrified line sections as well as in intermodal terminals." Shunting the train with a single diesel locomotive in the transshipment station is one of the biggest cost drivers. The use of the classic variants is also not environmentally friendly, often a diesel locomotive comes especially for the operation to the preliminary station, which would actually already be done after two hours. "That is not economical and not at all ecological. In addition, the risk of personnel and machine failure can be significantly reduced. Switching traction to the hybrid locomotive is exactly the right choice."
The hybrid locomotive has 2,100 kw (2,856 hp) of power in electric mode and 1,700 kw of power (2,312 hp) in diesel mode – powerful enough to reliably pull a 1,600 to train through the low mountain range. It has a powerful diesel unit, which is only used when there is no progress in the environmentally friendly electric drive. The ultra-modern on-board computer and efficient energy recovery during braking round off the package. There are plenty of applications. "This type of locomotive will prevail. The hybrid locomotive is an eminently important part of the transport turnaround – especially for companies like Kombiverkehr, which serve a Europe-wide route network. It would be very well suited for the terminal in Dörpen, and we are currently in the decision-making process together with Kombiverkehr. We will always take this locomotive into account for future transports. Environmental aspects and efficient traction of the intermodal trains are strategically very high on our agenda. In the foreseeable future, our hybrid locomotive will be harnessed in front of the Dörpen-Ludwigshafen wagon set," Christian Stavermann reveals already now.
Environmental aspects and efficient traction of the intermodal trains are strategically very high on our agenda.

Christian Stavermann, General Manager e.g.g.o.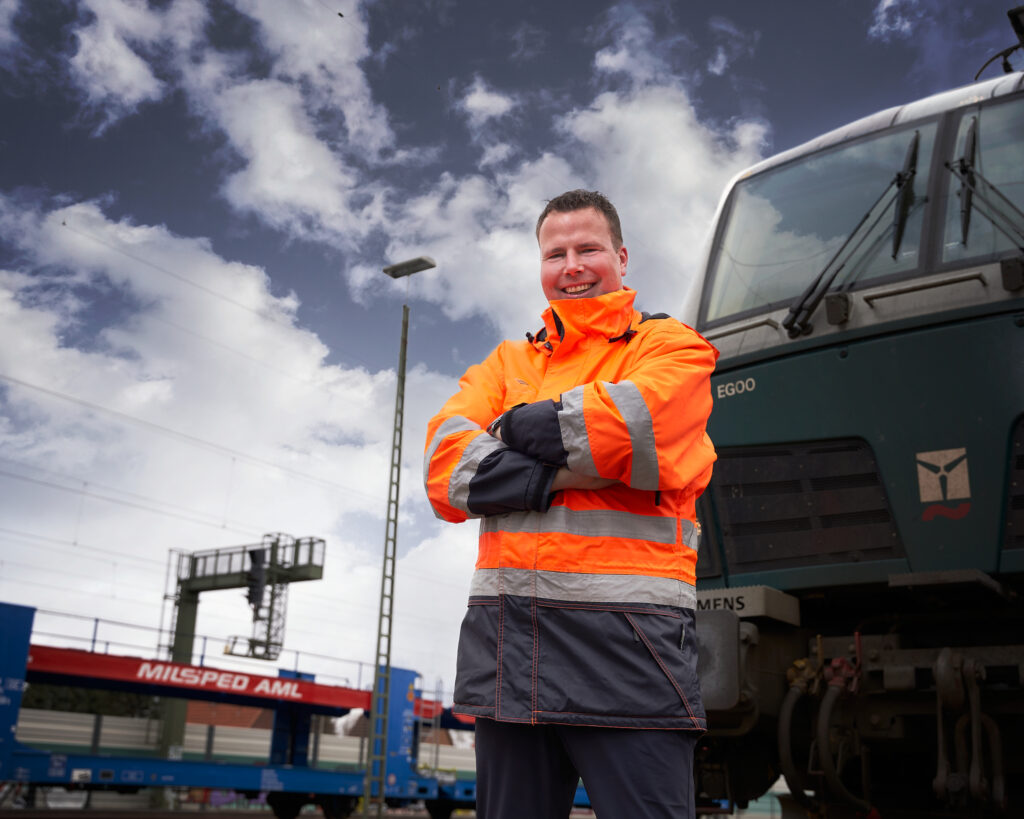 The Emden-based railway undertaking e.g.o.o., which has been running the Kombiverkehr train between Dörpen, Hamm and the Ludwigshafen combined transport terminal since 2019, has acquired the new hybrid locomotive for a list price of just under 4 million euros. The second is to be acquired by mid-2023. The e.g.o.o. team "tested" the hybrid locomotive at Siemens Mobility in Munich at the time and then drove it to Emden themselves. "We deliberately chose our home market and German quality," says Christian Stavermann, "our customers expect that."
Your contact for more information on transports on the Dörpen – Ludwigshafen connection:
Frank Werner, Sales, Head of National Transport, Phone +49 69/79505-212 or fwerner@kombiverkehr.de
THE VECTRON SERIES
The Vectron locomotive from Siemens Mobility is used in both freight and passenger transport. During development, the focus was on future and investment security, environmental friendliness and fungibility as well as retrofittability and convertibility. The Vectron can be supplied as a purely electric version for operation in alternating current (AC) and direct current (DC) networks as well as a multi-system (MS) version in the power classes 5.2 MW or 5.6 MW and 6.4 MW. In addition to the desired national train control systems, the locomotives can also be equipped with the latest European train control system (ETCS). Production will take place at the Siemens Mobility locomotive plant in Munich-Allach.