Tripling of today's intermodal volume possible
Logistics companies showed great interest in DUK's dialog event in Dörpen at the end of September. The central theme of the event was the desire to shift road transports to environmentally friendly rail combined with the further expansion of the existing intermodal service offering from the Dörpen transshipment terminal.
Sufficient potential available
According to a study by KombiConsult, the necessary transport volume for a transport expansion is given. In a survey, managers of industrial and logistics companies in the Emsland region and neighboring counties indicated that around 33,000 truck shipments per year could be considered for a shift to rail. This would mean a tripling of the current volume. However, this would have to take into account a large dispersion in the national and international relations as well as an imbalance of traffic in shipping and receiving. In addition to Ludwigshafen, Munich and numerous business locations in Italy, Austria and Spain were most frequently named by the companies surveyed as correspondence regions for shipments from Dörpen.
More departures desired for greater efficiency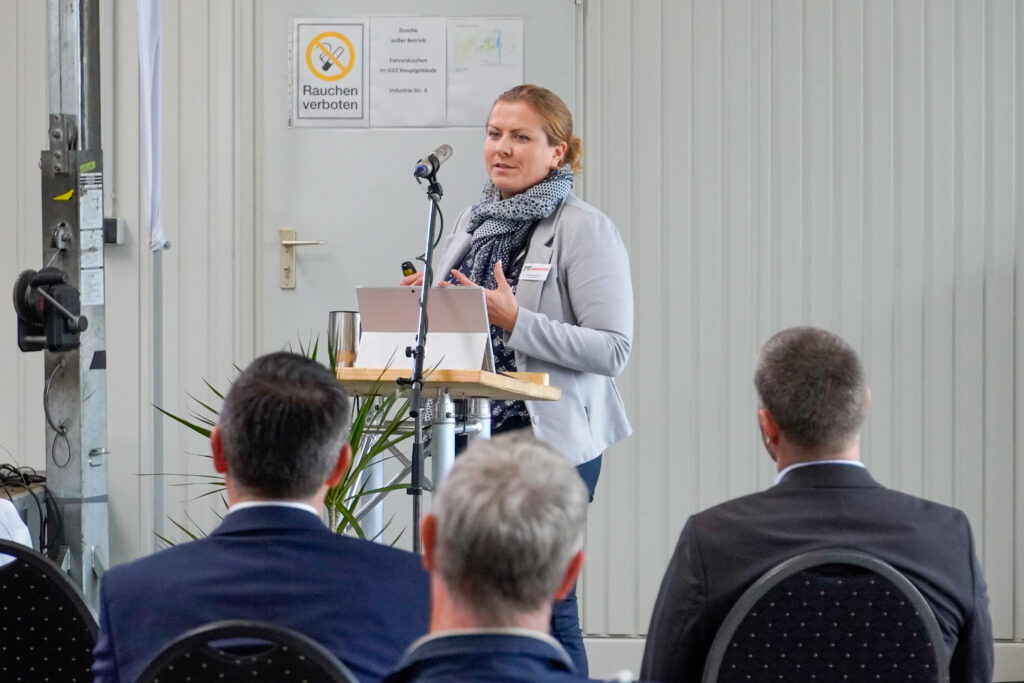 "With Kombiverkehr's offer between Dörpen and the chemical site of Ludwigshafen, combined with existing international gateway connections, more than two-thirds of the potential can already be run by rail," stated Viktoria Präg-Jähn of KombiConsult. "However, many forwarders would like to see five departures per week and direction in the future instead of three, so that the delivery of goods and merchandise to the consignee and equipment round trips can be made as efficient as possible."
Great readiness for intermodal transport
During the panel discussion with representatives from industry, freight forwarding and the intermodal sector, solutions for tapping the potential were also intensively discussed with the guests in the audience. In the process, there were also flaming appeals for intermodal transport from trade associations, from the shipping industry and from forwarders, especially against the background of the objective of the European Green Deal to also convert the transport industry to climate neutrality by 2050. The greatest priority goal of all logistics companies and decision-makers is now to do everything possible to increase the existing connection between Dörpen and Ludwigshafen to five weekly round trips with a secured base volume.
A functioning infrastructure is the basis for transport relocation. With our repair and customs services, we offer forwarders additional added value. Here at Container Terminal Dörpen, many things are possible.

Aloys Terhorst, Authorized Signatory Dörpener Umschlaggesellschaft für den kombinierten Verkehr mbH
The will of the industry to use climate-friendly rail is there. There are many arguments in favor of rail in order to meet the requirements on the forwarding side as well: Reducing the number of shipments through higher cargo weights and optimizing transport chains through intermediate storage in the terminal are just two important arguments.

Michael Kirschner, Managing Director Lanfer Transporte GmbH & Co. KG
Expectations of the new government are high. Climate protection and the shortage of drivers are already important drivers for the necessary transport turnaround. Incentive systems for new rail traffic are necessary.

Michael Heinemann, Managing Director DB Intermodal Services GmbH
For UPM, rail is a central element in the orientation of transport logistics. We consistently use all possibilities for the sustainable organization of transport chains.

Udo Schepers, Manager Logistics UPM GmbH – The Biofore Company
Rail offers the best climate leverage in transportation. The conditions for the shift are green. All we have to do is jump.

Alexander Ochs, Managing Director, Kombiverkehr KG
Are you interested in intermodal transport to Emsland? Then Frank Werner, Sales, Head of National Transport is your contact: Phone +49 69/7 95 05-2 12 or fwerner@kombiverkehr.de